Road to Bali c.1952
Dorothy Lamour was born to be a star.
She was born Mary Leta Slaton December 10, 1914 in New Orleans, Louisiana. Her parents' marriage, like many marriages in those days, was one made in haste. They were divorced in only a few years, with Dorothy having little contact with her father for the rest of her life. Ms. Slaton later had her daughter take on the name of her step-father, Lambour. Once entering Hollywood, Dorothy would change this name from 'Lambour' to 'Lamour'.
A great beauty, Dorothy won the Miss New Orleans pageant at the age of eighteen, and used her earnings to take professional photographs and try her hand at acting in Hollywood. It was a rough road. When she first came to Hollywood in the early 1930s, the epitome of beauty was paved by platinum blondes. She was turned away many times, as 'most studios thought she was too unusual-looking'.
New Orleans was a safe-haven for racially ambiguous persons, and had been since before the Civil War. Within the city, there was an entire social class recognized as gens de couleur, which made it possible for non-white people of color to make a respectable living, learn a trade, and marry well in a time when slavery was still widely accepted. Lamour's mixed heritage, completely commonplace in her home city, was not entirely well-received outside of it.
Paramount Pictures Promotional Photograph
Her lineage, according to Wikipedia, was Louisiana French, with some Irish, and Spanish decent--this was, and still is today, a very basic way of explaining that she was a Creole. Referencing Lamour in an excerpt from The Man Who Seduced Hollywood: The Life and Loves of Greg Bautzer, it was said, "Her dark, exotic looks came from a background that included Creole, Spanish, and Irish ancestry."
While the ethnic diversity of 'Creole' is not necessarily inclusive of African-Islander, there was an underlining question about her heritage that would ultimately define her time on the silver screen.
Was she or wasn't she?
Lamour, for her part, never spoke of her ancestry openly.
Hollywood long had a history of 'white washing' racially ambiguous women who were considered star-material. From women who simply appeared, like Myrna Loy, to women who were actually of exotic lineage, like Merle Oberon, Hollywood went to great lengths to manipulate (or even exploit) the exteriors of these women in order to sell their image. It was no different for Dorothy. And so, Dorothy Lamour found her biggest, and brightest opportunities in Hollywood were to be playing natives, exotic women, and 'the girl in the sarong'.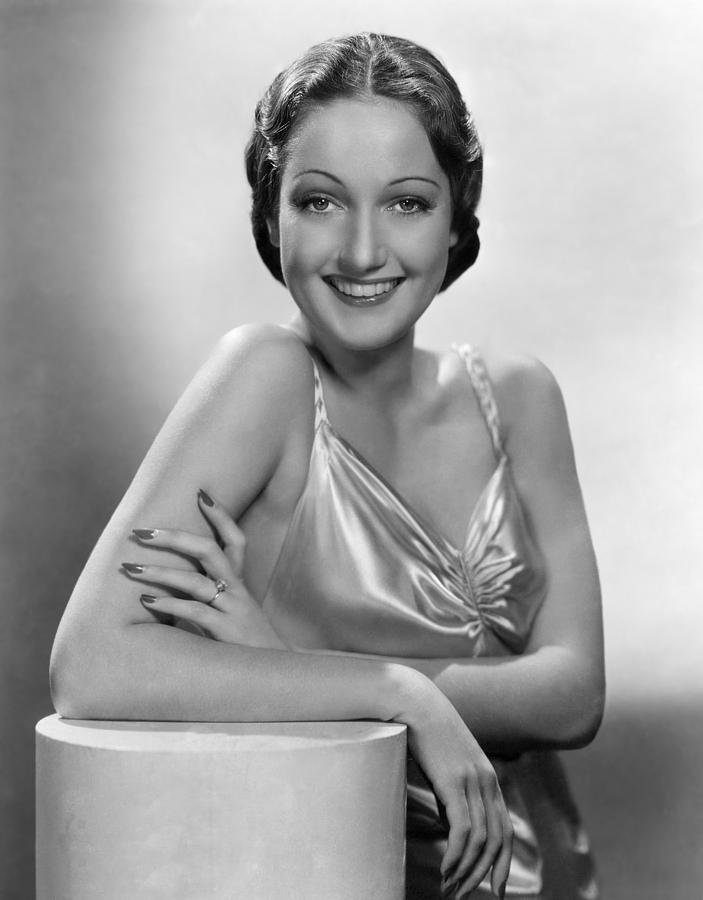 c. 1937
Despite the automatic type-casting and the limited variation of scripts coming her way, Dorothy found herself a charming and popular asset to Paramount Pictures for a number of years. During WWII, she held her own amongst popular pinup girls of the era, standing beside the likes of Betty Grable, Rita Hayworth, and Lana Turner. She continued to be in films at Paramount until Road to Bali, in which she was thirty-eight--considered one of the older women still contracted as a leading lady at the time.
After Paramount, Dorothy found a very welcoming audience in the nightclub and dinner theatre circuit. Gifted with a beautiful voice, she sang with an orchestra and did a few dance acts well into her sixties.
In her private life, Dorothy had married twice, and had given birth to two sons with her second husband.
In one of her last on-screen appearances at seventy-two, when asked if she were going to wear a sarong in her scenes, she quipped "Do you expect me to stand against a palm tree, and sing in the moonlight?"
Lamour passed away September 22, 1996, at her home in Los Angeles, California.